I loaded these photos to blogger a week or two (or 4!!!!) ago and never got around to filling in the blanks.
I have been way busy a-making and not finding/making the time for a-blogging!
Throw in a knee arthroscopy 2 weeks ago which I am still recovering from and a bigger then Ben Hur 2nd birthday party for my little monkey last weekend and I reckon I have valid reasons for being so tardy.
As I want to get back to my machine I'll just do a quick recap.
As the SBS quilt along is over I felt a bit lost...until I found a new one that is.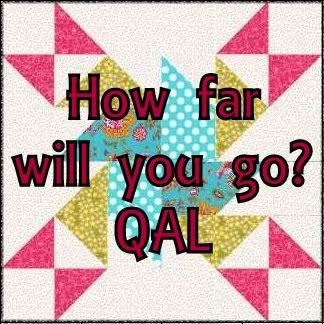 This one is being hosted by two bloggers I stumbled across.
Jess
and
Jess
!
flickr
group has been started and people were putting up their fabric selections. I put this picture up. Everyone else had lovely, neatly folded bundles all matchy and pretty. This is how I roll. Each week I intend to pull together some fabrics from this magical tub. My only rule for this QAL is NO WHITE!
Week 1 of the QAL required 2 10" Susannah blocks. Easy peasy, right? Not for me. I ended up with a right handed and a left handed one. I had heaps of fun pulling the fabric for these blocks.
Block #1. Probably could have used a bit more contrast but overall I like it.
Block #2. All marshmallowy. I really like this one.
And in other news I decided to start using up some tiny scraps. So here we have 3/4" hexies and little 9 patches. I just make a few here and there. The 9 patches will grow up to be a quilt one day.
The hexies destiny is a mystery to me for now.